Tamil Video Chat Rooms
Tamil Voice, Video and Webcam Chat Rooms connecting tamil peoples all over the world. Here you can chat in tamil and chat in malayalam. Peoples can find their partner easily by using our chat rooms. Join now and meet new friends around all over the world. Ahaa chat is becoming the part of tamil online networking friends website. Aaha tamil chat rooms connects peoples easily without any cost payment or without any registration. Aaha chat connects peoples from Malaysia, Singapore, India, Dubai, UAE and many other countries. We will guarantee the user that they can find a best friend for their real life by using our chat rooms.
Once a user join our website means they can interact with new friends and new kind of peoples, here we have the different kind of chat rooms for different kind of peoples like kerala, malayalam, tamil and video webcam chat rooms. Friends can meet in real life by using our chat rooms. Safety tips have to be followed by each and every users who are using our chat rooms. In previous update explained that How to use Video and Audio in Aaha Chat Rooms. By using this instructions user can easily learn the way of using aaha chat rooms.
The way of using our chat rooms are very difficult with compare the hi2world tamil unity chat room. The list of tamil chat rooms that are accessed by different kind of peoples. Kings tamil chat rooms mainly used by peoples from Paris and India. Aaha is one of the no1 tamil chat room to all kind of peoples and friends around the world. kalapam eelam idhayam tamil chat rooms are the popularly known tamil chat rooms. vaanavil mainly used by peoples from malaysia and singapore. CC Kerala Chat Rooms are accessed by malayalam talking peoples living all over the world.
The audio and video chat functionality looks like the image shown below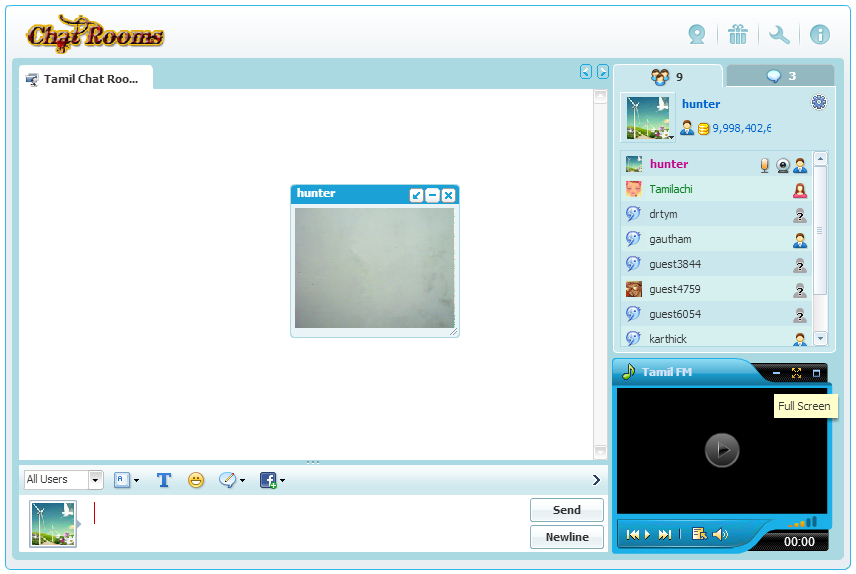 Why join Aaha Tamil Chat Room?
Allows you to contact users from all around the world or right next to you. Here you gets the chance to look and connect with single Indians. It is helpful and suited for a person who is looking for friendship, love, romance and even marriage. There are thousands of people who have registered. It is next to impossible for a user to fail to meet another user who has the same interests. This makes it a good place to make Indian friends. It is available all day and and all time a member can log in at any time. easy to meet people and a user can find friends to connect with. This has been made more effective by the fact that a person can access a member's profile. A member can see a user profile to know more about an individual friends in our network. If the profile is impressive a registered user can get in touch with the member and start dating and keep in touch with him or her.